Born in 1996 as the heart of each Casablanca stand alone video editor - growing up as the "SmartEdit" software within the 2nd Casablanca generation – and getting a really powerful HD editor in the 3rd hardware generation: "BogartSE"

In 2013 it was time for Bogart to take the next step in it´s evolution. Bogart has now moved out, jumping right into the big world of Windows®. The philosophy of MacroSystem/MacroMotion is now available for everyone with a modern personal computer system running Windows Vista or newer on an Intel i-CPU environment.

Bogart Windows Demo DOWNLOAD




High quality "made in Germany" and easy usage with a very intuitive editing software.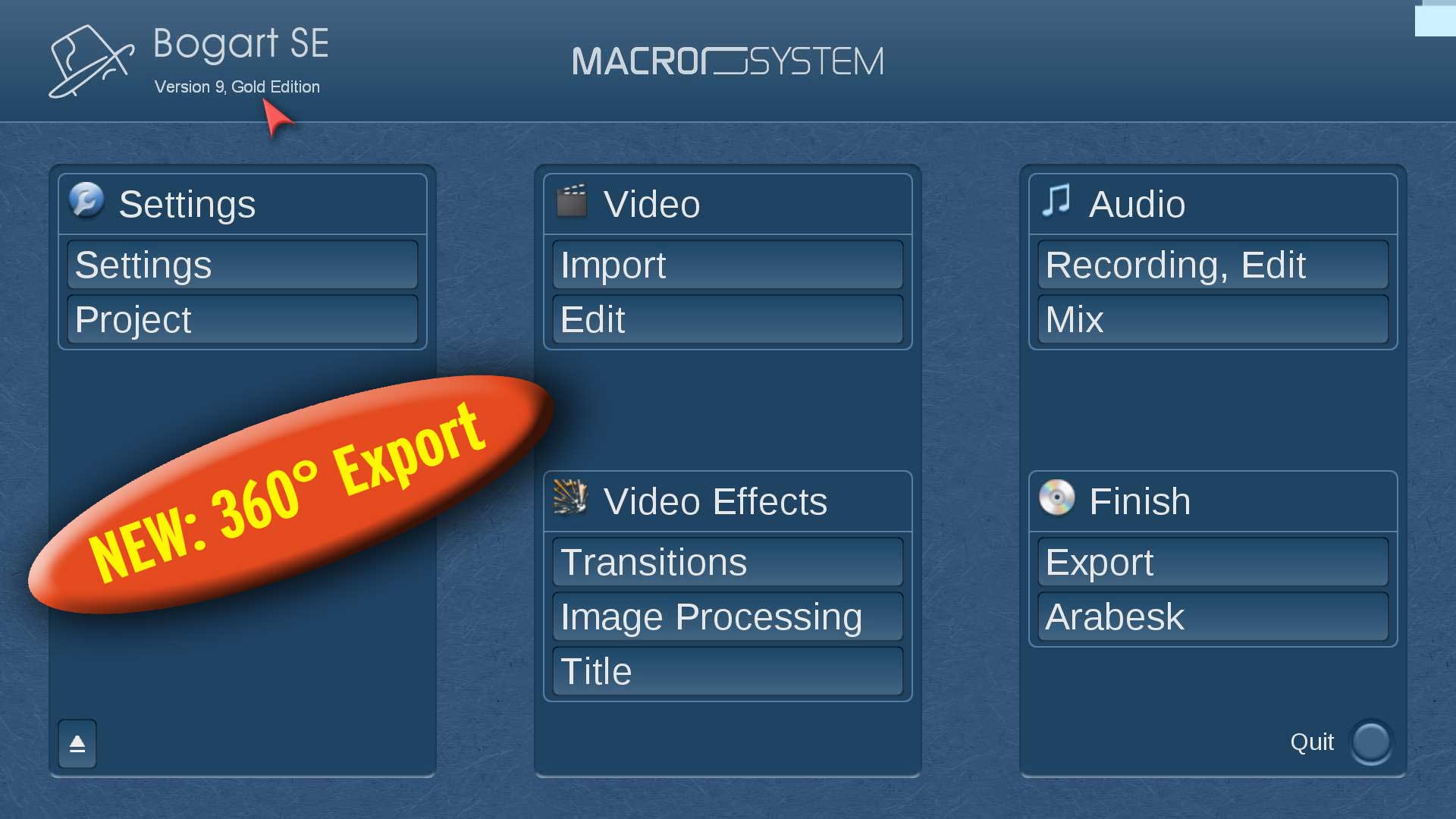 A film lives of the content shown. However, a prerequisite for the enjoyment of the content is an appealing image and sound quality. For this reason, MacroMotion has set it´s goal to create a high-quality signal processing. Bogart can directly access all files seen in the Windows explorer and the actual import processing will ensure that the video is converted to the user set project format. Different frame rates, resolution, video aspect or even 90/180 degree rotated video can be corrected.

The Bogart editing software also offers a range of flexible "tools" to live out your creativity. The following points just briefly describe a meaningful process with Bogart:

Import single scenes automatically or get them combined to one big scene (for longer, Camcorder split AVCHD recordings)

Remove components that should not be included in your final movie, which the ability to split scenes individually or shortening in/out (trimming).

Perform image corrections, eg for adapting to different lighting conditions or a subsequent white balance.

Arrange the scenes in the order you want them to appear in the so-called "storyboard" – and your video with hard cuts is finished.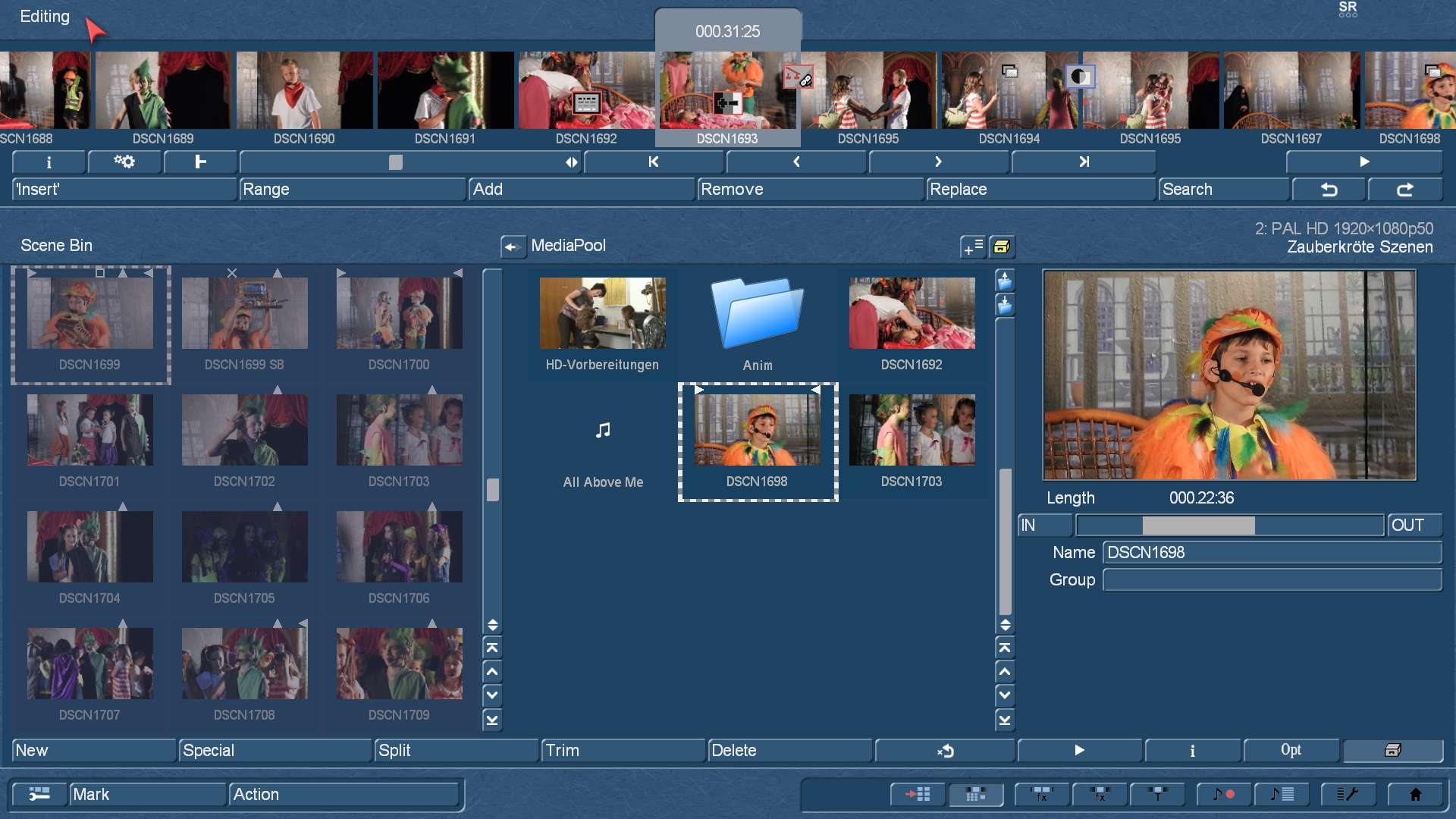 Need your video to be spicier?

Choose from a good selection of "usable" transition effects, for example a crossfade, a circle wipe or a double exposure effect, to get the scene transitions as a creative, stylistic part.
Now use one of the many special image processing tools, eg for the generation of time-lapse, photography or black / white scenes, or render your selected scenes with functions like "Lineart", "White Balance", "Out of Focus",...

Use the built in title tool to make lower thirds, a marquee or a text panel for the closing credits. You can edit text attributes such as font, size, color, border, shadow, etc., or use pre-made templates.

Import music in Bogart and just talk into an attached microphone for your comment.

Arrange the background music and your comment on the available stereo audio tracks and adjust the volume of the original camera sound. Of course including soft fades and envelopes.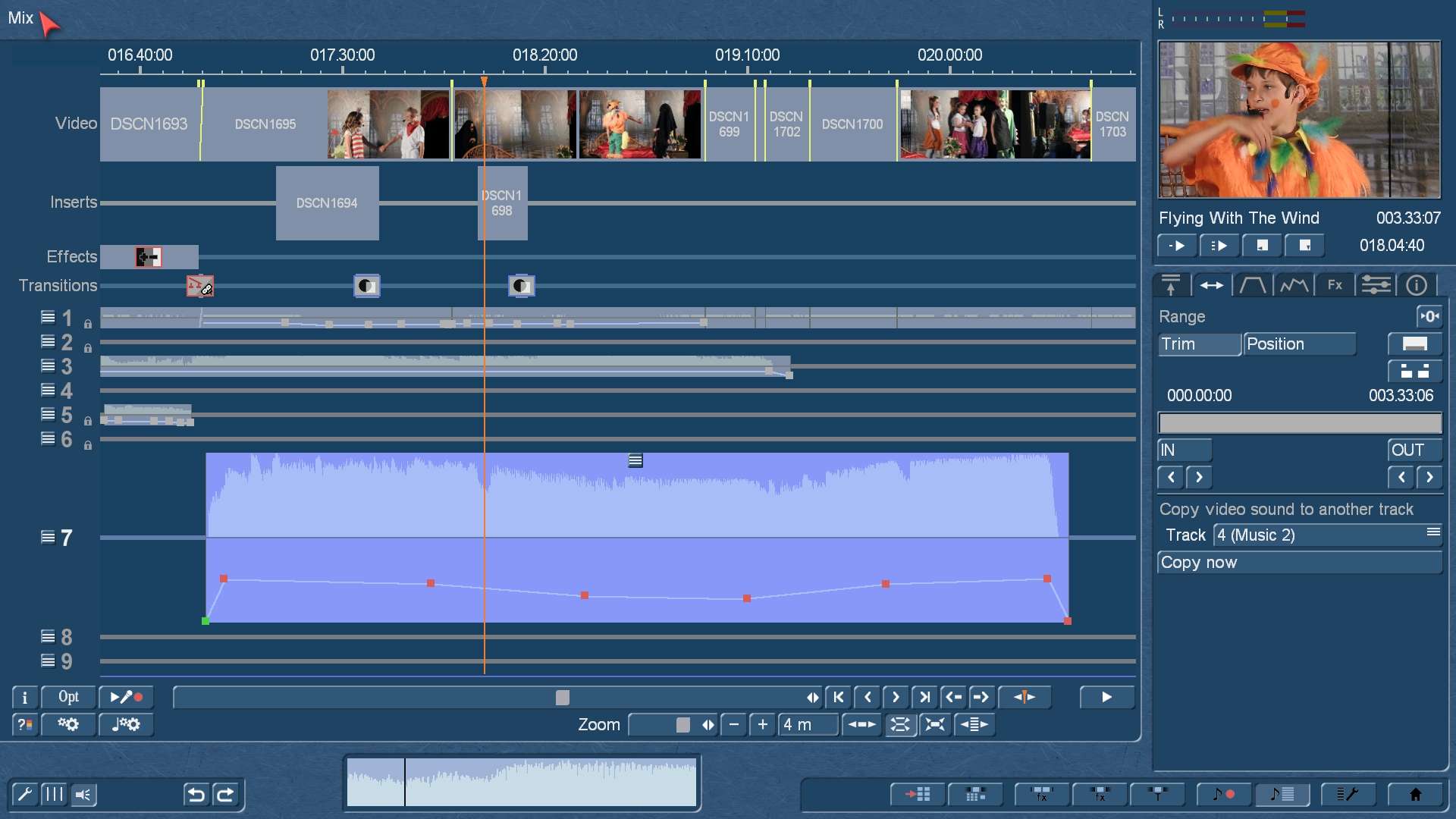 The finished film can be exported to AVI, MPEG-2, H.264, MP4, … with different quality settings, depending on your needs.

With a dash of creativity, you become the director of your own home movie production.
Of course, this short list can only show a small part of the available functionalities. Despite this multiplicity of possibilities, much emphasis in the software design was placed on an easily accessible and in many areas intuitive usage of the Bogart software. So many functions can be used with learning by doing, which is supported by three different Bogart editions. You have the choice of licensing the Bogart Basic (for 30 day testing), Bronze, Silver or Gold Edition. The amount of functions and settings can grow with your skills and needs, so the requirements from video beginners - to ambitious home movie filmmakers – or even up to semi-professional videographer.


The operation of Bogart is optimized for mouse and trackball usage. With optional Jog-Shuttle support and the special PowerKey activation, additional software allows to even increase the flexibility.

For all processing steps, the goal is placed on sustaining the maximum picture and sound quality of consumer camcorder recordings. The result is a final product that meets the highest demands in your living room, or even at small TV stations. When outputting your finished movie, you can also create DVD or Blu-ray Images with the additional Arabesk software. Authoring with creation of main and chapter menus manually, or by using an intuitive Assistant-System can be so fast and easy.

The continuous evolution of the Bogart features since 1996 guarantees a constant adaptation to new technological developments. Therefore users with MacroSystem hard- and software could always be up to date. Appropriate updates are published frequently on the MacroMotion.de website.

Note: The images and functions explained here represent the Bogart Gold Edition, which is available as the highest edition for all systems - Casablanca and Windows®. For the DVD / Blu-ray functionality an optical drive and the Arabesk software is needed on some Casablanca models or on the PC. Check out the feature list of all Editions to find your perfect function level.

Continue to the Bogart for Windows Shop



Return to previous page